The following is part of an educational series of Oil & Gas primers provided by Oseberg.
'If I only knew then what I know now, my company could have monetized that emerging play sooner.'
Let's face it, everyone wants tomorrow's newspaper, but not everyone has access to data early enough to act. Getting into a play sooner often means lower per acre pricing and first dibs on prime acreage. A lot of key data is provided to 'respondents,' a term the Oklahoma Corporation Commission (OCC) uses to identify the types of mineral interest owners who are privy to OCC proceedings.
The requirements for different types of mineral interest owners involved are dependent on the type of proceeding involved. Some applications (like spacings) require operators to name and notify all parties with mineral rights in the specific formations and sections being spaced, while other applications (like location exceptions) are more concerned with notifying operators of wells in the surrounding sections.
Being named as a respondent to a Commission proceeding can have significant legal and practical implications depending on the proceeding. As a result, operators, mineral owners and mineral buyers alike have significant stock in being able to quickly access respondent data. Accessing respondent data through Oseberg is the difference between being a first mover and missing the opportunity to block up prime acreage. Here are the top 4 reasons why:
1. Oseberg's respondent data shows you the mineral owners potentially willing to sell their assets, allowing you to move quickly.
Mineral buyers can get early access to Oseberg's respondent data, obtaining a list of mineral owners who are potentially looking to cash in. Be the first and last offer that mineral interest owners receive. Respondent data will be the signpost you've been looking for to key you into upcoming drilling activity. Earlier indicators like these will increase your chances of blocking up acreage.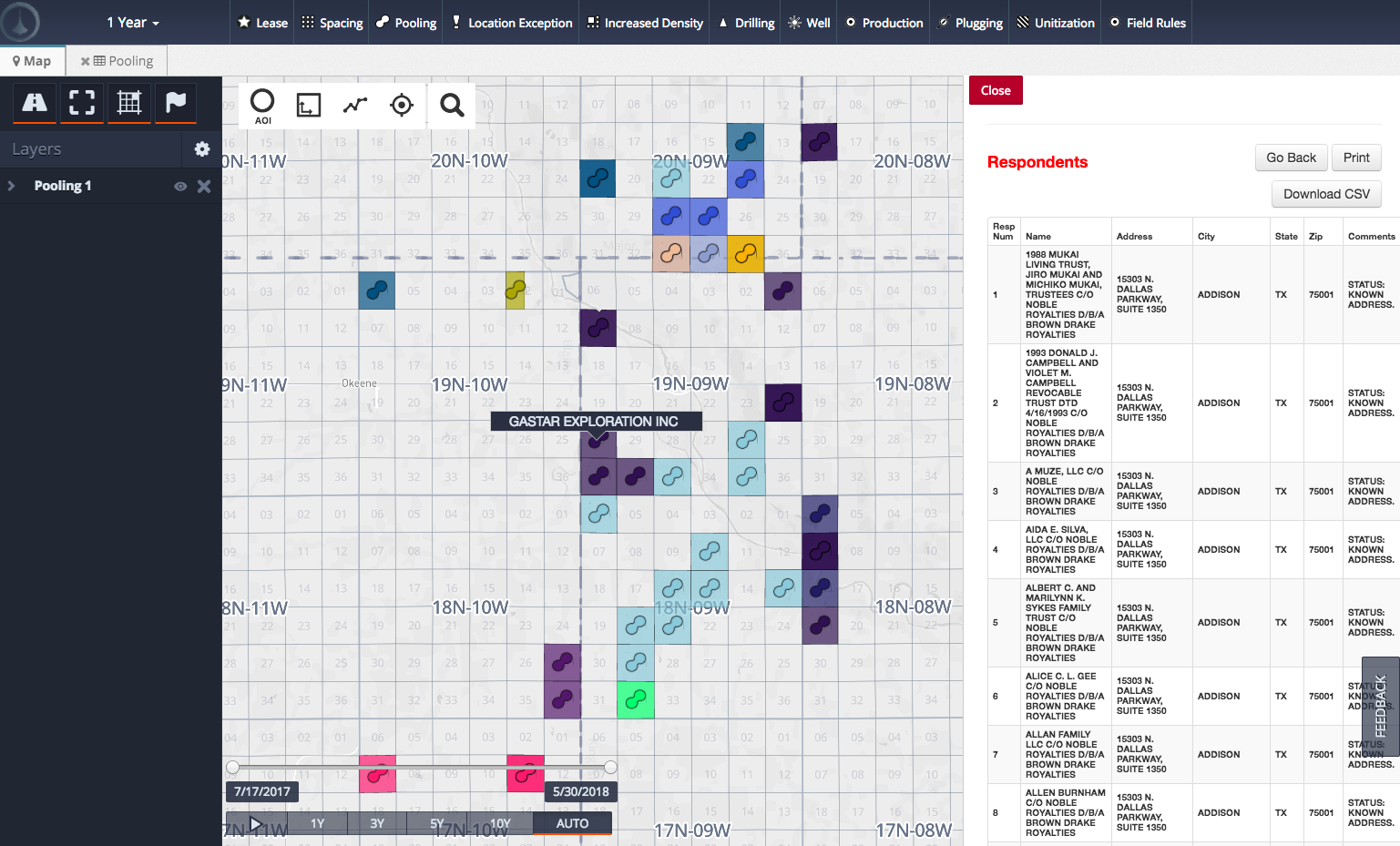 Mineral owners can also benefit from respondent data as a method of determining when an operator wants to exploit their mineral assets or those in adjacent sections. Mineral owners will be notified when the OCC has listed them as a respondent on either a pooling and/or a spacing application. For pooling applications, mineral owners will have the option to elect to either participate or lease their interest under the pooling order.
2. Respondent data lets you know which owners have not leased their assets as part of a pool and will also provide key spacing specifications.
When the pooling applications are filed, owners who have not leased are named as respondents on Exhibit A of the filing. Respondents are notified by mail and provided the time, place, and purpose of the hearing, together with the requested pooled formation(s). At the hearing all persons who have a right to drill may appear and let their interest be known.
Spacing filings are also filled with key data for mineral buyers and owners (learn more about when and why spacing applications are filed in Oklahoma here). Notice is required to all owning the right to share in production from the mineral estate underlying the relevant common sources of supply in the area requesting to be spaced. This type of filing results in a public hearing where the size and characteristics of the spacing unit will occur.
3. Accessing respondent data through the OCC is SLOW!

Don't let broken systems be the reason you missed an opportunity. It doesn't take long to notice that pulling data from the OCC database takes forever. Antiquated systems make researching filings an all-day affair. Are you still manually transferring respondent data from a PDF image into Excel or Word in order to create a mailing list? We created a better way.
4. There is any easy and cost efficient way to find respondent data--including in spacing and pooling filings.
Using Oseberg, operators and mineral buyers can find respondent data for all relevant regulatory filings quickly and efficiently. Additionally, if you are a mineral owner, you are able to quickly find all of the filings in which you are listed as a respondent. There isn't any need to manually transpose data from the OCC site or a need to manually check for activity in your area of interest. Oseberg creates technology that works for you. Oseberg alerts proactively make you aware of relevant respondent data. We see obstacles and create solutions that work for you. Learn more about how this is accomplished by clicking on one of our products below.
We'd love to help you see how you can easily get all of the data we discussed here and show you how you can use that data to stay ahead of what's going on in your area of interest. We create technology with your user experience in mind. Contact us today to customize your alerts!