Note: Don't be surprised if you see a few changes in our charts below. That's because we've edited our pooling, increased density, spacing, and location exception charts to depict the differences in number of apps and orders filed. While we had previously shown these data sets as a total, we also felt it important to depict separately the number of apps and orders filed.
Oklahoma Leasing Activity
Calyx Energy tops our list for the most active leasing activity in the past 60 days. The major increase began in March when we saw an 800% increase in McIntosh County.
Using Atla we are able to map their position in the Arkoma Basin. Not an Atla User? Have Nick give you a demo so you'll be up to date on all the movements in the Arkoma Basin!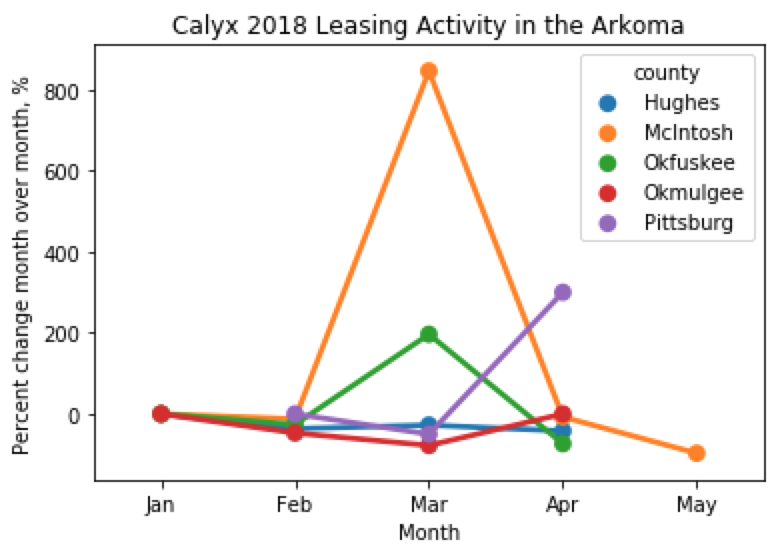 ---
Oklahoma Spacing Applications
Trinity Operating is the top operator by spacing activity. Their recent activity focuses on the Mississippian and Woodford formations in the Arkoma Basin.
---
Oklahoma Completion Filings
---
Oklahoma Pooling Applications
BP has increased pooling applications targeting the Woodford in McClain county.
With both EOG and BP focusing on this exciting area, you should open up Atla and take a look for yourself. Not a subscriber? Schedule a demo with nick@oseberg.io today.
---
Oklahoma Drilling Intents Filed
---
Oklahoma Transfer Activity
Roan Resources' acquisition from Citizen Energy in the Merge is the start to their activity in 2018.
Sign up for our weekly reports to stay ahead of the curve with weekly updates!
---
Oklahoma Location Exceptions


---
Oklahoma Increased Density Filings
BCE-Mach has filed multiple increased density applications in Woods and Alfalfa counties targeting a new position that they acquired from Chesapeake Energy.
---
All data in our weekly reports is pulled from our flagship product, Atla. Already an Atla User? Contact your CSM to find out how to recreate these maps for your own areas. Not an Atla User? Contact Nick for a demo!