Texas Weekly Report - 07/19/2018
Texas Intents to Drill
Pioneer remains highly active in the Midland Basin. However, Pioneer chairman Scott Sheffield recently said that the Permian Basin would reach capacity within 3-4 months. If this is true, how long does Pioneer plan on staying a "pure play" Permian operator? Is this an issue of pipeline capacity?
Here's what we know:

In the last 30 days, Pioneer has been approved for three permits to drill in Karnes County.
Based on the graph below, while the majority of their activity is in the Permian Basin, they cannot be considered a 'pure Permian' operator because they are still planning drilling activity in the Eagle Ford.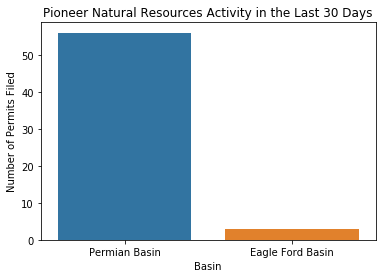 If Pioneer is looking for areas outside of the Permian, what other operators might be affected by the lack of pipeline capacity?
---
Texas Frac Activity
Over the last year, we have seen a spike in the use of Acrylamide (primarily used as a friction reducer) in the Permian Basin. Specifically, twice the number of wells have included Acrylamide compared to last year.

Acrylamide has been known to decrease completion costs and improve operational efficiency during slickwater fracs.

Occidental, another major player in the Permian, has been consistently using Acrylamide since early 2014.

Pioneer began using acrylamide in the 4th quarter of 2017. Other operators whose use of Acrylamide has increased are XTO, RSP Permian, and Endeavor.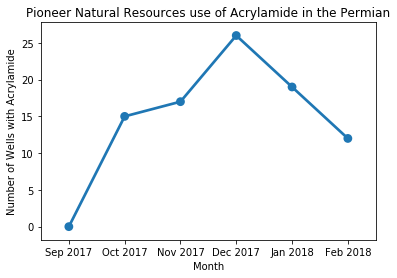 Have you begun to use Acrylamide in your fracs? Find out what other chemicals have been piquing operators interest in 2018 using oseFrac!