Oklahoma Weekly O&G Report - 6/11/2018
Oklahoma Leasing Activity
Despite a slight slowdown in Continental's activity at the end of May, they still remain the most active operator in the SCOOP, with the majority of activity occurring in Stephens County.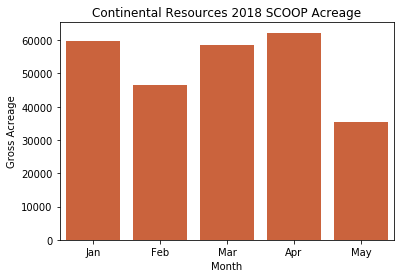 The company with the most leases in the MERGE in the last 60 days is a broker - RedSky Land. Could they be working for a new entrant or one of the companies already with a position?
---
Oklahoma Spacing Applications
EOG continues to space the Merge in McClain county, targeting the Mississippian, Woodford and Hunton formations.
---
Oklahoma Completion Filings
Devon has been able to cut costs in the STACK, averaging almost $1.5MM in savings per well in the Showboat Development. Expect more savings in the future as they continue to optimize their completions process.
---
Oklahoma Pooling Applications
Continental's pooling applications are targeting the Springer formation, which is part of the Springboard Project we talked about a few weeks ago. Their pooling orders are focused in the western portion of the STACK.
---
Oklahoma Drilling Intents Filed
No surprise that Newfield is active primarily in Kingfisher County. Check out our recent STACK report for a more in-depth look into this and other operators in the STACK.

The SCOOP and STACK rig count continues to increase in 2018.
---
Oklahoma Transfer Activity
Impact Energy acquired assets from Primexx Operating in northern Oklahoma. They have a great track record in the Anadarko basin.
---
Oklahoma Location Exceptions
---
Oklahoma Increased Density Filings