By: Cris Byers, Product Manager, oseberg, Oklahoma City, OK
The New Mexico oil and gas regulatory environment is a convoluted place, and the details of land and mineral ownership are no exception. The federal government, through the Bureau of Land Management (BLM), manages almost 250 million acres, so chances are you'll be dealing with the BLM if you are in the oil & gas business in New Mexico. The state gets some action too; the Oil Conservation Division (OCD) gets their share of red tape also. And don't forget about private ownership! If you're in the New Mexico market, or plan to be, you'll need to know how to navigate this 3-party system. Whether you're new to the state or a seasoned pro, we hope to give you a better understanding of the types of ownership in New Mexico and the unique rules and regulations you may encounter with each.
Why so complicated?
There are three types of land and mineral ownership in the state
Federal (including tribal)
State
Fee (or privately held)
And three different primary regulatory agencies to file with:
Bureau of Land Management (BLM)
State Land Office (SLO)
Oil Conservation Division (OCD)
Different from other states like e.g. Texas & Oklahoma where private land ownership is as high as 95%, New Mexico has a much higher percentage of government owned public lands available for oil & gas leasing. New Mexico is only around 42% private (fee), and that drops to 33% for the Delaware basin in particular. Each state has its own state land management agency (two of them in the case of Texas), but most filings and regulatory burdens flow through a single source: the Oil Conservation Commission (OCC) in Oklahoma, and the Railroad Commission (RRC) in Texas. In New Mexico, it's a different story.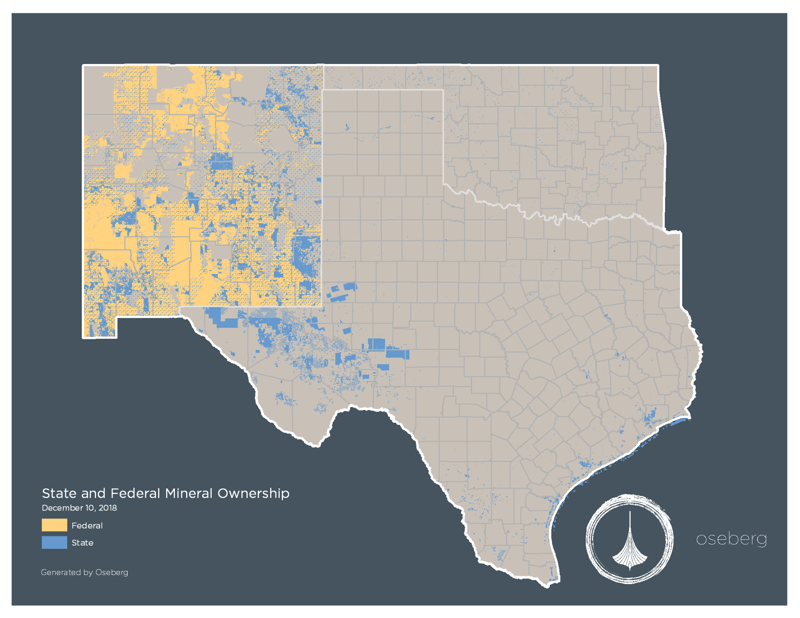 Federal
Simply put, the rules are different for federally owned land. The way you buy leases, how you file applications, how you distribute royalties and how you communicate with the public is a unique process. The BLM manages over 247 million acres of public lands and more than 700 million acres of subsurface mineral estate1 across the United States which includes around 3.5 million acres positioned within the Permian Basin in New Mexico. Accessing rights to develop this acreage is a process not for the faint of heart, and often means an operator must plan 1-2 years in advance. This pace is far slower in comparison to operating in primarily fee mineral states.
To give an example, the BLM has to provide notice several months in advance of actually holding an auction for lease sales on federally-controlled land which gives the public "time to comment".2 (FYI... there's an upcoming lease sale to be held in September that will include 4,980 acres, with the majority of the parcels located in Southeast New Mexico.)2
In order to drill and develop federal lands, you will also likely need to familiarize yourself with communitization, a mandatory filing if you're drilling across either multiple federal leases or a mix of ownerships. And of course, for every application filed, whether it's a permit to drill, communitization, unitization, or any number of environmental or cultural stipulations, you'll need to be prepared to hurry up and wait. For example, when filing a permit to drill, you can optionally file a Notice of Staking (NOS)3 first, which provides a 30-day due diligence period wherein an on-site inspection will be scheduled by the BLM. This is followed by filing an Application Permit to Drill (APD), which in the best case can be approved within around 40 days but can go much longer if there are deficiencies found in the filing. If a public comment period is deemed to be necessary, that will add another 30 days, plus an indeterminate amount of time to address any substantive comments.
To learn more - Click Here.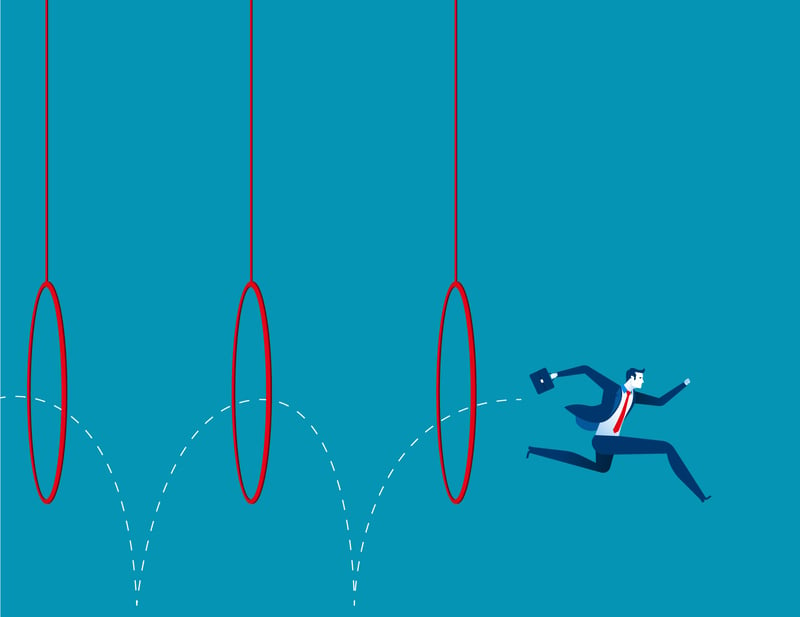 State
Once you've finished jumping through the BLM hoops, you have to run the gauntlet of state filings. New Mexico's Oil Conservation Division (OCD) handles most of the day-to-day regulatory filings for oil and gas activity in the state. Permits, completions, transfers, production reporting, non-standard locations, applications and orders (such as compulsory pooling, unitization, etc.) all flow through the OCD. For matters involving state lands, the State Land Office (SLO) handles leasing, communitization (there's a state flavor of those, too), unitization (everybody's got a piece of the unitization pie), and salt water disposal.
Similar to the federal side of things, if you plan to drill across multiple state leases, or a mixture of state and fee or federal leases, you're going to need a (different) communitization agreement. You might still need the federal version if you are drilling on BLM land (which trumps the state filing) but you still have to file both. Now, if you have any non-participating interest owners in the area, you will need to have an approved compulsory pooling before the communitization can be approved. And if you don't have enough interest in each tract you're drilling across, your pooling requires approval before you can submit your permit, otherwise it just has to be approved before you can produce the well. But how much interest is enough?
The 1% Rule
If you are planning to drill across land in which you have a 1% or more ownership interest in every tract crossed by the proposed wellbore, you are free to file and your Application for Permit to Drill (APD). You're still obligated to consolidate other interests (through voluntary agreements, compulsory pooling, communitization of leases or some combination thereof) before an allowable will be assigned to the new well, i.e. before you can produce it, but you can proceed with everything else.
If you want to drill across lands in which you have <1% ownership interest and you're unable to reach a voluntary agreement with the existing interest holders, you'll have to apply for that compulsory pooling and wait for it to be ordered before you can submit the initial APD. In cases where a pooling was required prior to a permit, we often see around a six month gap from a pooling application to a permit application. This is very important because it provides one of the few significant leading indicators of drilling activity in New Mexico.
Compared to other states like Oklahoma, where around 80,000 poolings have been ordered over time, New Mexico has a relatively small fee ownership pool and only 5,000 pooling orders. However, 2018 saw twice as many poolings than any other year in NM history, and we expect that trend to continue as more operators move into the NM Permian, things get more congested, and virtually all wells drilled in the Delaware go horizontal.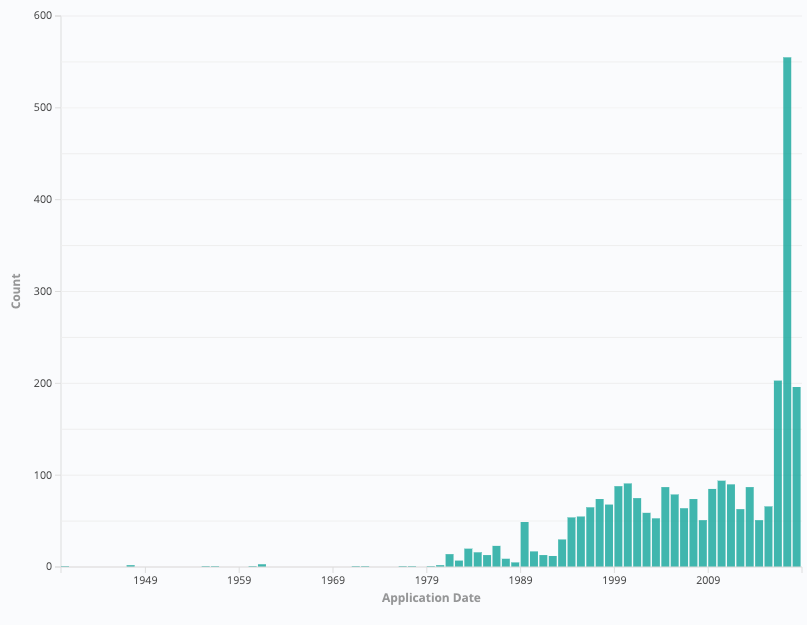 (If you want to learn more about compulsory poolings and communitizations in NM, please click here to check out this recorded oseberg webinar)
Fee (Private Lands)
While there is a large, complex ecosystem within the Federal and State agencies involving compulsory poolings, unitizations, communitizations and other consolidation of interests that require the use of a regulatory body and potentially the force of government, a lot of what transpires in New Mexico is still done through voluntary agreements between private interest holders. Joint operating agreements, farmout agreements, voluntary poolings, and even regular fee leases fall into this camp. There's not as much transparency into these transactions and filings simply because they don't require federal and/or state government oversight, but there's still valuable information that can be found filed of record at the county courthouse.
Fortunately, at oseberg we have collected, OCR'd and extracted critical lease data & legal provision information for all NM records from Eddy, Lea, Chaves and Roosevelt counties back to 2010. All of these records are available using a "Google-like" search through our new Full Text Search (FTS) product. (Check out the oseberg webinar on FTS here: https://offers.oseberg.io/watch-webinar-turbocharge-your-tx/nm-county-record-searches)
To learn more about the differences between the three different ownership types, and the general regulatory environment in New Mexico, we highly recommend the following primer published in the LSU Journal of Law & Energy Resources (Article Link)4.
For a terrific summary of Federal lease requirements in general, we also recommend "FAQS of Federal Oil and Gas Leases", Feriancek, Franklin & LeMieux, Landman Magazine, Jan/Feb 2019, pp. 21-34.
Until next time…
New Mexico is definitely a complicated operating environment because there are so commonly several government entities involved. But the prize seems to be worth it. The New Mexico Permian Delaware Basin alone offers more than 46 billion barrels of oil, 281 trillion cubic feet of natural gas, and 20 billion barrels of natural gas liquids (NGLs).5 The opportunity is tremendous, but navigating the complexities of the regulatory environments may prove to be too onerous for many of the smaller and mid-size independents who need to maintain volume in order to compete. Our speculation is that larger independents and super majors who can afford to master and maneuver the 1-2 year-long federal and state regulated processes may be the ones who ultimately thrive in New Mexico in the long run.
And with oseberg's New Mexico regulatory datasets, we'll be there to help. Poolings, Spacings, Respondents, Communitizations, Leases, Permits, Wells and Production are all available in our product, built upon a thorough understanding of the regulatory domain.
Learn more about our New Mexico data - Click Here
References: