Oklahoma Oil & Gas Activity
Stone Oak Operating acquired more than 100 wells from Tapstone Energy in Northwest Oklahoma (particularly Beaver, Ellis, and Harper county).
Continental Resources is the most active operator in terms of spacing activity in Oklahoma. Spacing apps have been filed in Garvin and Grady counties.

Alta Mesa has filed the most permits to drill in the last 30 days.
Newfield Exploration

has filed the largest number of pooling applications in Oklahoma over the last 30 days.
Texas Oil & Gas Activity
EOG has filed the most permits to drill in Texas in the past 30 days, primarily in the Eagle Ford Basin.
Oseberg Map Services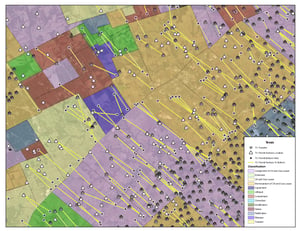 Oseberg Map Services makes it easier for both GIS professionals and everyday map users to bring Oseberg's leading land, lease, regulatory & drilling datasets directly into their preferred mapping environments, including ArcGIS Online, ArcGIS Desktop/ArcMap or any other ESRI-compliant application. We have taken an '80/20' approach with Map Services, packing the most value with the minimum amount of attributes required while also drastically reducing the number of replicated datasets that need to be managed and tracked.
Oklahoma Leasing Activity

Oklahoma Spacing Filings

Oklahoma Pooling Activity

Oklahoma Drilling Intents Filed
Oklahoma Location Exception Activity
Oklahoma Completion Filings
Oklahoma Transfer Activity
Oklahoma Increased Density Filings
Texas Drilling Intents Filed