Within the last month, the New Mexico State Land Office (SLO) issued a temporary shut-in order for all oil wells producing on state leases, citing the drastically reduced oil prices. These wells include those that are part of communitization agreements.
Rule 19.2.100.71 NMAC took effect on April 21, 2020 and will be in place for the following 120 days until expiring on August 19, 2020. The rule allows an operator to pay shut-in royalties to the SLO in lieu of production without penalty of losing held acreage. If the rule ends, the protections under the rule will end 90 days later.
You can click on the link above to read more, or check out the summary below:
Operators' Financial and Legal Responsibilities During the Shut-In
By definition, a shut-in occurs when the production cap is set lower than the available output from a specific oil-producing site. Shut-ins are typically implemented to restrict the oil supply or when operations must cease ahead of a natural disaster, such as a hurricane.
According to the current shut-in rule, a shut-in payment must be paid on every well on the lease. In addition, a shut-in royalty must be paid within 90 days from the date the last well on a lease capable of producing oil was shut-in.
If a lease is held by a communitization agreement, then the lessee of the largest lease in the agreement is responsible for paying the shut-in royalty.
If the well is part of a Unit, the shut-in royalty for each well is calculated by multiplying the base shut-in royalty that would be due for that well under the lease terms by the percentage of the acreage that lease makes up within the Unit. This amount will be no less than $320 per well.
Operators should know that shut-in wells must begin producing again within 90 days after the temporary ruling expires.
How Oseberg Data Can Help
Using Oseberg data, it's easy to map all of the currently producing oil wells that are on SLO acreage, including wells in communitizations.
Below is a map of currently active oil wells in New Mexico on SLO acreage with production reported in the last 12 months. In the map, state lands are shown in blue and federal lands are shown in orange: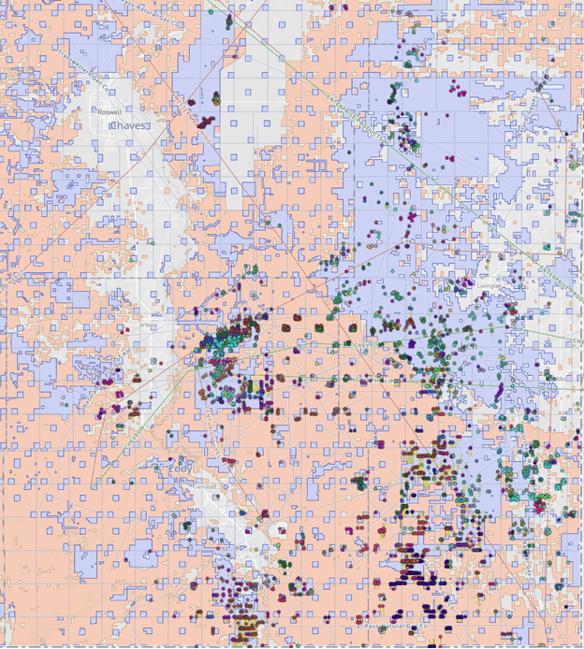 There are about 5,000 active wells that are classified as "oil producing" in the Delaware Basin of New Mexico. This represents about 7 million barrels of oil per month that can be potentially shut-in, which is roughly 25% of the state's monthly oil production.
A typical New Mexico state lease royalty rate is 20%, so even at $30 oil that is a lot of cash not going into state coffers.
You can also use Oseberg data to map all the active communitizations on SLO lands: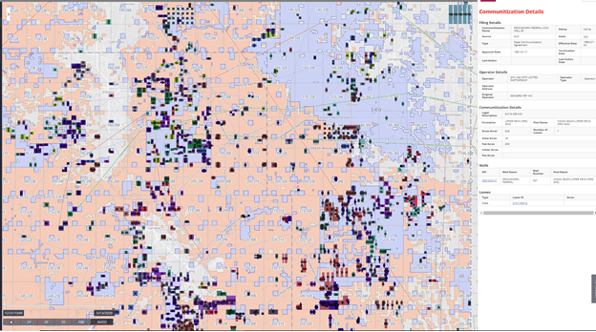 As shown above, active Permian communitizations contain over 960,000 gross acres, of which SLO lands make up 80%. These communitizations total about 7,600 leases and more than 4,000 active wells on active Permian communitizations. The top five Operators involved with the most Communitization agreements are EOG (>700), Concho (>500), Mewbourne (>300), Devon (>150) and Oxy (>100
Unitizations which may include SLO lands in addition to BLM can be mapped as well: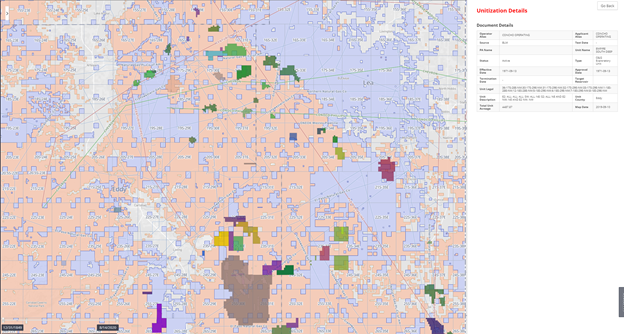 We can also map active Drilling Spacing Units that contain SLO acreage, an example of which is shown below: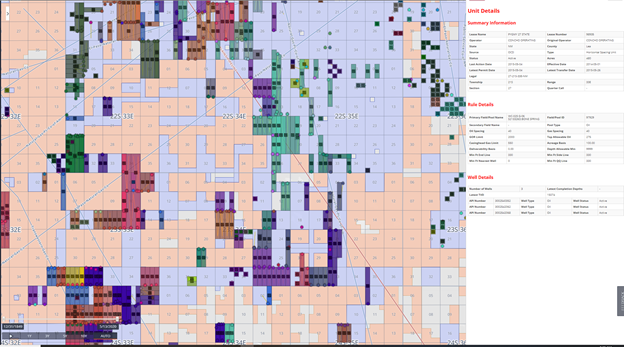 There are over 4600 Units covering SLO acreage, representing over 400,000 gross acres. The top five Operators holding the most Unit acreage are EOG (>72,500 acres), Concho (>59,000 acres), Devon (>31,000), Mewbourne (>17,500 acres) and Oxy (>16,000 acres).
Many operators are concerned with the long-term impact that the rule will place on operators and have writtenl expressed requests for amendments. It's important for operators to understand their responsibilities for the temporary shut-in order and its effects on future operations. Using the above Oseberg data can help ensure you get the full picture of the possible impact of significant shut-ins on New Mexico state leases.
Schedule a demo of Oseberg's O&G data platform to learn more.